Our Practice Areas
Marshall Law Offices is primarily focused on estate planning for individuals and families with high net worth. Jason Marshall is licensed to practice in Rhode Island, Massachusetts, Connecticut and Illinois.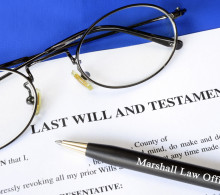 Estate and Tax Planning
Marshall Law Offices develops and executes sophisticated estate plans tailored to meet your specific goals. The firm is highly skilled in the creation of wills and trusts, and in all aspects of income, gift and estate tax planning. The firm's legal professionals provide careful guidance through many complex legal and financial issues and structure plans that create a clear path to carry out your vision for the future.

Business Succession Planning
For many business owners, succession planning can be a complicated and even a delicate task, particularly in light of the emotional issues and family dynamics that are often involved. Marshall Law Offices has the expertise and skills to guide you, your family and/or your colleagues through the process of transitioning business ownership and responsibility in a prudent manner. As an integral part of the process, we develop effective strategies to address future or current tax liabilities related to ownership changes.
Charitable Planning
Helping the charitable causes you care about can be an important part of your legacy. Marshall Law Offices has the tools to assist you in achieving your charitable goals while integrating tax saving charitable planning techniques into your estate plans using entities such as charitable trusts and private foundations.
Trust and Estate Administration
Marshall Law Offices represents and advises executors, administrators and trustees in the administration of trusts and estates.
We offer professional trust administration services for all types of trusts to individual trustees to ensure proper management of the trust and to minimize the liability of the trustee. Our services include financial recordkeeping, preparation of accountings and federal and state fiduciary income tax returns.
Our experienced professionals work closely with you through the entire probate and estate settlement process. We perform all estate administration services, from the appointment of the executor or administrator to completion of all necessary tax filings and coordination of the final distribution of assets to the appropriate beneficiaries.
Jason often serves as executor and trustee for clients who wish to have a professional involved in the administration of their estate plans.